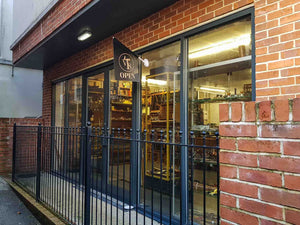 At last! We have a shop!
A beautiful shop in beautiful Dorchester. 
Like Eden planted between the Tigris and Euphrates (but tucked up an alleyway between South Street and Trinity Street) this is something that we can only describe as paradise.
Stacked with vintage tools for all tasks and tastes, rare, collectible, useful and economical. Old tools for the hobbyist or professional. We have lots of good quality gorgeous tools from an era when they were built to last, to give long, accurate and delightful service.
A friendly, welcoming place where you are welcome to browse or buy. Come in and see us. We are open 9 to 5 Monday to Saturday. Knowledgeable and friendly staff await.
New stock arriving all of the time. Check our listings online or better still come in and visit us in person in Dorchester. Tools for wood and metal, leather and lead.
See our saws, beat a path to our hammers, chop chop to the axes and drift among our planes - where the cutting edge is a vintage time.
Call us on 01300 348863 or email us at shop@vintagetoolshop.com with your enquiries and we will get back to you.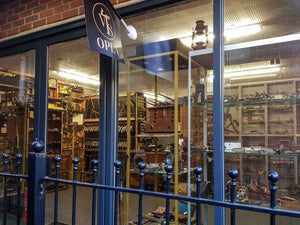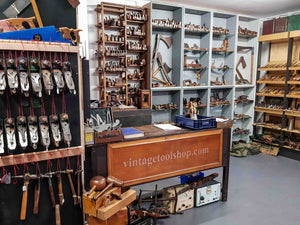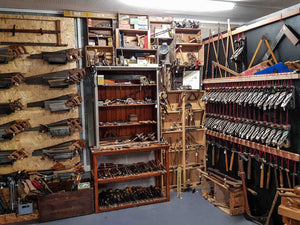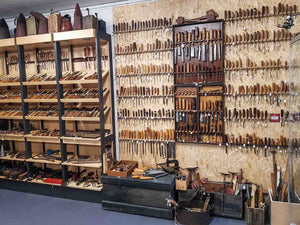 How to find us:
Full access information is available at Discover Dorchester.
Or click the button below for our location in what3words
what3words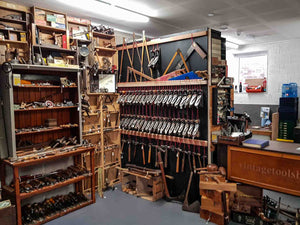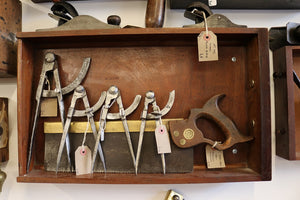 Fine Hand Tools Bought & Sold
The Vintage Tool Shop is a haven for the fine tool collector or avid crafts-person alike.  We find, restore and sell, both online & in our beautiful physical store, a huge variety of quality used tools from all trades and crafts, from woodworkers to luthiers, leather-work to engineers of all stripes we may well have just the tool for you.
We are always looking to add to our stock, if you have any duplicates or tools you no longer need get in touch and we will happily make you an offer. Whether vintage or just used we are interested in almost any tool that could find a home with another maker, nothing with a plug or plastic though please, we have an affinity for quiet.
Get In Touch
Vintage Tool Shop
We are open 9-5 Monday-Saturday
The Vintage Tool Shop
Unit 2, South Terrace
10A Trinity Street
Dorchester
DT1 1TU

Tel: 01300 348863